There's nothing I love more than going outside and picking and eating a vine-ripened, juicy tomato on a hot summer's day. But I'm no gardener. If anything, I have a black thumb.
I've always said that if my cats didn't meow, I wouldn't remember to feed them. Since my plants don't talk – or meow, which would be weird, more often than not they end up looking sad, wilted, or (even worse) dead.
The one plant I have managed to keep alive – for at least a few months – is a tomato plant. They're easy to grow and require little maintenance. So have no fear! Even if you haven't been able to keep your houseplants alive you CAN grow a tomato plant. Trust me.
The great thing about tomatoes is that they can be grown in all kinds of different containers. Check out these unique tomato planters. They might just inspire you to give gardening a try.
1. Topsy Turvy Tomato Planter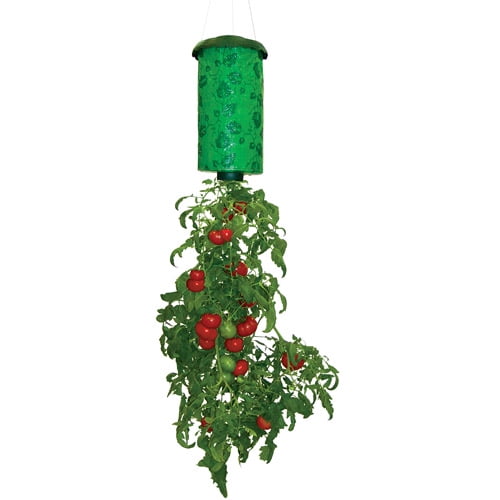 If you've been up late at night, you've probably seen a commercial for the Topsy Turvy Tomato Planter. (Say that three times fast!) It's a hanging system for growing tomatoes – upside down
2. Rustic Corrugated Metal Wheelbarrow Planter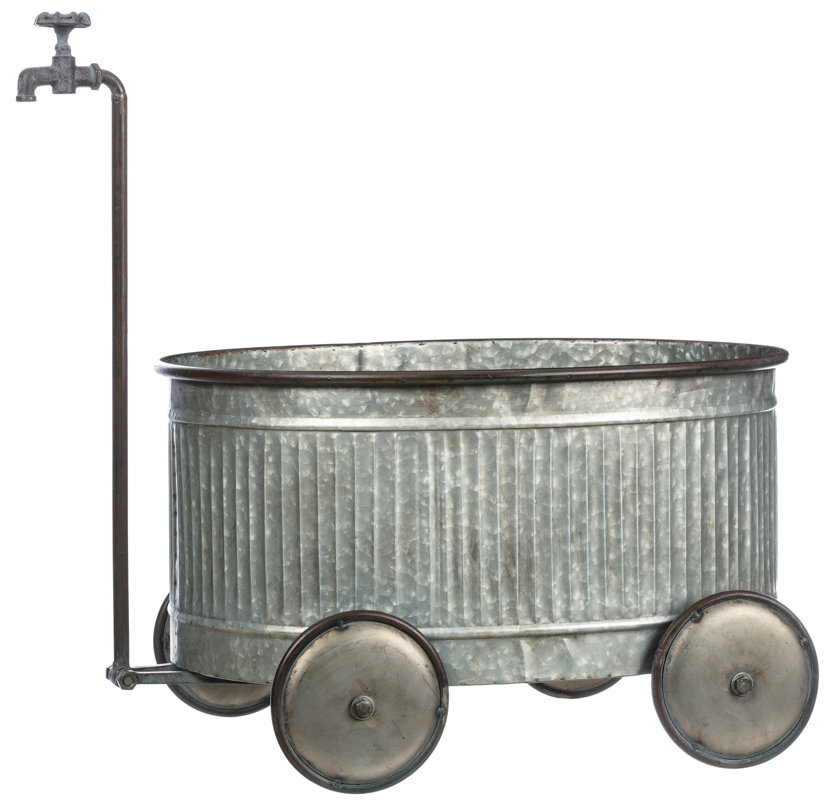 Tiny house lover approved. This metal planter is a great conversation starter. Just don't try to use it as a bathtub… unless you're washing a chichiwawa.
3. Rolling Self Watering Tomato Planter
If you're afraid that you might forget to water your tomato plants, this is the container for you. Just don't forget to fill the water reservoir once in a while. Bonus – it's on wheels so you can move it around easily without breaking your back.
4. The Urbanscape Tomato Planter
This planter is vinyl, weatherproof, and you can grow vegetables in multiple directions – up or down. Mind blown, right? It doesn't take up much room and adds a nice decorative flair to any outdoor space.
If you dream of shiplap and distressed wood, you might like to recycle an old barn trough and use it as a planter. Just be sure to poke holes in the bottom for drainage.
6. Wood Wheelbarrow Planter
You can't use this wheelbarrow to mulch your yard, but it will add some rustic charm to your outdoor living space.
7. Easy Grow Plastic Raised Garden
Sleek, stylish, and with a unique built-in watering system and watering gauge, this tomato planter is nearly foolproof. Plus, you can use it indoors or outdoors.
8. Hanging Plastic Water Jug
If you're a DIY-er and into recycling, you can easily make your own hanging tomato planter from recycled water jugs or any other large plastic bottles.
9. Upside Down 5 Gallon Bucket Planters
Another DIY planter to try is the 5-gallon bucket planter. If you recently completed a painting job and happen to have some 5-gallon buckets around, you can make your own hanging upside down planter.
10. Honeycomb Tomato Planter
This planter's honeycomb design exposes your tomato plants' roots to more airflow – allowing your plant to take in more nutrients and water. Happy roots = happy tomatoes.
11. Painted 5 Gallon Bucket Planter
And last, but not least, another DIY option. You can make really beautiful planters out of 5-gallon buckets with a little spray paint, some rope, and your imagination.
No matter what planter fits your personal style, you can easily give your green thumb a workout with any of the tomato planters listed above. Let us know which one you like best in the comments below.